I have been suggesting for many years that there is an overuse of spinal injections and surgeries for low back and leg pain, so it was no surprise when I read an article in The New York Times (NYT) that reported on a study recently published in the New England Journal of Medicine[1] about patients with spinal stenosis who are frequently treated with a procedure that has been shown to be ineffective. Epidural steroid and lidocaine injections for patients found to have spinal stenosis were no better than epidural injections of lidocaine alone. In chapter 4 of my book End Back Pain Forever I discuss the many reasons for back pain. MRIs and CT scans of the low back will almost always find something such as spinal stenosis or a degenerated or herniated disc even in patients without pain. Therefore the US Institute of Medicine suggests that these imaging studies should not be done routinely since what you find in the study is frequently not the cause of your pain. The most common cause of back pain is muscles and other soft tissue. If you treat the diagnosis you got from the MRI or CT and the actual reason for the pain is muscle, it makes sense that the treatment will frequently fail, which it does!
The NYT report of this relatively large, randomized, double blind, controlled study clearly demonstrates the ineffectiveness of the use of steroids for symptoms attributable to spinal stenosis (narrowing of the canal in the spine which contains the spinal cord) which occurs frequently as we age. The treatments most often provided are epidural steroids to theoretically reduce the inflammation of the nerves being squeezed by the narrow canal, and surgery to widen the canal. Both approaches have a significant failure rate.
At the Norman Marcus Pain Institute we have shown in multiple published articles that one reason why these approaches are ineffective is that the pain in the back and leg may not be the result of the narrowing or other supposed abnormalities seen on the MRI or CT scan. It is well known that very few (in one published article- less than 10%) scans of the low back in adults are read as normal; as many as 40% of adults with no back pain have herniated discs, and 70% have degenerated discs. So it is "normal" to find an abnormality.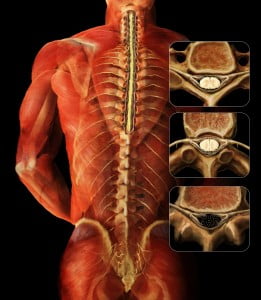 Our unique physical examination, utilizes an instrument I developed, reveals that many patients with back and leg pains have areas of muscle tenderness that are the source of their pain yet are overlooked. One study of more than 23,000 patients[2] found that 70-80% of patients with back pain were diagnosed with sprains and strains of muscle and other soft tissue. It's hard to believe then, armed with this knowledge, that muscle examination and treatment is not part of the typical standard of care for back pain in the USA[3]. If we are to properly address the cause of most back pain, the evaluation and treatment of its muscular causes must be addressed.
---
[1] Friedly JL, Comstock BA, Turner JA, et al. A Randomized Trial of Epidural Glucocorticoid Injections for Spinal Stenosis. New England Journal of Medicine. 2014:374:11-21.
[2] Deyo RA, Weinstein JN. Primary care – low back pain. New England Journal of Medicine. 2001:5:363-70.
[3] Chou R, Qaseem A, Snow V, Casey D, Cross JT, Shekelle P, et al. Diagnosis and Treatment of Low Back Pain: A Joint Clinical Practice Guideline from the American College of Physicians and the American Pain Society. Ann Intern Med. 2007;147:478-491.