There has been an increase in the number of hours we sit in front of a computer for leisure and work. Does your job require you to stare at a computer for hours at a time? One study found that workers sitting for 95% of the day, and/or worked with their neck at 20˚ or more in flexion for more than 70% of their working time, had a significantly increased risk of neck pain  (http://oem.bmj.com/content/58/3/200.short).
An ergonomically designed workstation would help reduce the strain on your muscles. Here are a few suggestions: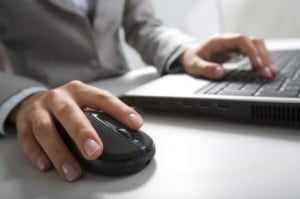 Place your monitor so you are looking at it straight ahead or down at no more than a 15˚ angle.
The monitor should be 18-24 inches away.
The angle of your elbows when typing on the keyboard should be > 90 degrees.
An ergonomic mouse or keyboard may also help.
A laptop is always non-ergonomic; because the monitor and keyboard cannot be separated one or the other is in the wrong position.  If you always use a laptop think about getting an auxiliary keyboard.
Footrests should be used if your feet do not rest flat on the floor.
If you use a phone frequently get a headset so you will not have to hold the handset to your ear.
Aside from these changes, you may also consider doing limbering activities such as small stretches throughout the day – shrug your shoulders a few times, move your arms above your head, or get up and walk around your chair.
Filed under: muscle pain posts • pain management
Like this post? Subscribe to my RSS feed and get loads more!