Many patients with chronic pain become depressed; therefore it is not surprising that many of these patients will receive antidepressant medications. What is very interesting is that these antidepressants not only can decrease depression associated with pain, but they can also decrease pain itself. They are frequently used to treat persistent pain associated with problems in nerves. The reason that antidepressants are effective for pain is that the chemicals in the nervous system that are associated with depression also are associated with pain.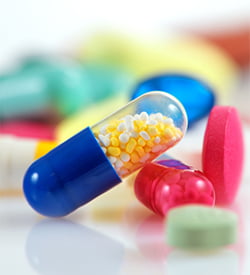 Antidepressants increase the available amounts of chemicals which affect your mood.  These chemicals include serotonin, norepinephrine, and dopamine.  The two most common types of antidepressants are:
SSRIs (Serotonin Specific Reuptake Inhibitors) – Antidepressants which only increases the amount of serotonin available.  Examples of SSRIs are escitalopram (Lexapro), fluoxetine (Prozac), citalopram (Celexa), and sertraline (Zoloft).
SNRIs (Serotonin/Norepinephrine Reuptake Inhibitors) – Antidepressants which increase the amount of serotonin and norepinephrine available.  Examples of SNRIs are venlafaxine (Effexor) and duloxetine (Cymbalta).  Examples of Tricyclic Antidepressants (a type of SNRI) are amitriptyline (Elavil), and nortriptyline (Pamelor).
SSRIs are not as effective for pain relief as SNRIs.
Even though the antidepressants may help diminish pain, their side effects can be unacceptable.  A recent review found that although approximately 1/3 of patients who took antidepressants for neuropathic pain experienced moderate pain relief or better, 1/5 discontinued use due to adverse side effects.[1]
Common side effects of antidepressants are nausea, dizziness, insomnia, weight gain/loss, dry mouth and diminished interest in sex (decreased libido). If you're not having reasonable pain relief with one of these medications, it should not be continued.
---
[1] Saarto, T., and P. J. Wiffen. "Antidepressants for Neuropathic Pain: A Cochrane Review." Journal of Neurology, Neurosurgery & Psychiatry 81.12 (2010): 1372-373. Print.