In today's world we are bombarded by information and ways to obtain it. Do you want to know how many steps you take a day? Just buy a device and it will calculate it for you. Care to know what your cholesterol levels are? Simply go get a kit at your nearest drug store. Is it possible we are gathering too much information for our own good?
The same question can be asked about medical testing. Is it useful or even helpful to know certain things about our bodies? Many of us have undoubtedly had the experience where we have gone to the doctor because we had pain and an imaging study was ordered. MRI, CT, and ultrasound can give us information about our bodies that would have been unimaginable in the past.
While technology in general is of course a huge benefit, at the Norman Marcus Pain Institute, we believe it is necessary to proceed with caution as we navigate through it all. At NMPI, one common problem we find in back pain, neck pain, and shoulder pain is the overuse and overreliance on imaging studies. "Abnormalities" are often found on imaging studies without any relation to one's pain. In fact, seeing abnormalities is more common than seeing a "normal" spine!   For example, up to 40% of people without back pain can have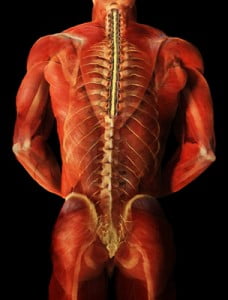 herniated discs and as many as 70% may have degenerated discs. That is why the US Institute of Medicine suggests not getting an MRI too quickly since you are likely to see one of these problems and assume it is the cause of your pain. This can lead to unnecessary nerve blocks and surgery.
At NMPI, we often see patients who have a herniated disc, yet they only have pain in their back and buttock. They have not experienced any radiation into the leg(s) at all. In these patients, the pain generally has nothing to do with the disc herniation since disc herniation pain generally radiates down the leg and into the foot. Even when the patient is experiencing pain down the leg with a herniated disc found on MRI, muscles in the low back and buttocks may be the cause of the pain. If muscles are not examined as a potential cause, you may undergo an apparently reasonable surgery, without achieving relief of pain. Some studies show that up to 50% of spine surgeries fail (resulting in failed back surgery syndrome) and one of the reasons is the failure to identify muscles that were the true source of the pain.
Most back pain and neck pain is caused by soft tissue such as muscles and tendons. This is confusing because you may have been told your pain is from your spine, discs, or nerves. The problem is most people as they get older have signs of wear and tear on their x-rays and MRIs, but these common signs of aging may not explain your pain if the pain actually originates in your muscles. That's why we say, when diagnosing persistent pain it's not having "more" information at hand, it's having the "right" information at hand.
At NMPI, we often see patients who experience persistent pain even after multiple spine surgeries. Our non-surgical, non-invasive treatment program has most of our patients leaving our office free of long standing back, neck, shoulder, and headache pain.